The Location: The hotel is in a complex that includes another hotel "Oasis". The design is very beautiful and the hotel recently was renovated. The main lobby is bright and very large. The hotel is very close to the Dead Sea and its about 5 minutes walk to the beach.
In The Room: Standard room is a bit small but you will have a window facing the Dead Sea. The big bathroom makes up for the size of the room, the bathroom have walls that are actually mirrors. At some point we found out that the room walls are pretty thin and you if listen you can hear almost everything going in the nearby rooms, especially the bathroom - anywhere that requires maximum discretion.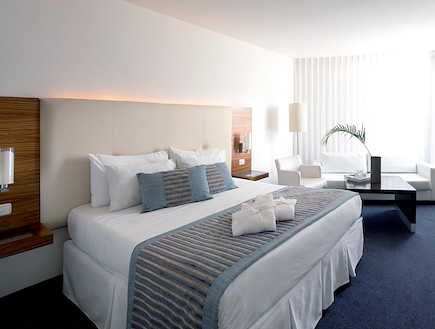 Luxuries: For a spa hotel the room luxuries were minimal. On the bed were laying down two robes and two slippers. On the cafe table there was plate of fruit that looked a little sad' in the bath there was a loofa waiting for us. On Friday morning we got a newspaper - that was a nice touch.
The spa is amazing, he designed in a Moroccan - Oriental style. There are variety of spa facilities that are free for the guests of the hotel for example:
A pool filled with water from the Dead Sea, the pool is warm and cozy.
Large hot tub.
Wet and dry steam bath and Turkish bath.
Important to mention
two luxurious showers that the hotel installed and placed near the pool. The spa treatments is another story. My friend and I lover massage, the Swedish massage that we got was mostly caresses its nice but not a massage.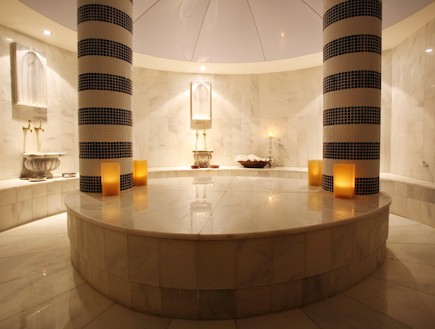 Service: The service at the hotel wasn't good and we sometimes felt we were a bit onerous for the service providers. The receptionist make fun of us when we asked her how to get to the mud bath in the area, another receptionist refused to give us towels because she thought we were other people, at dinner we asked several times for a drink that just didn't came.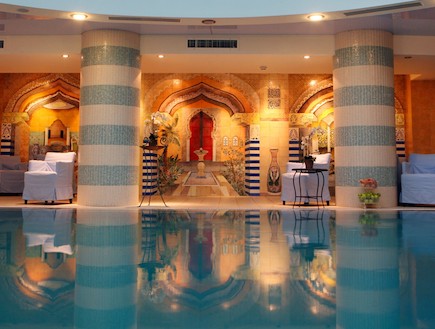 What to do: In January the hotel offers special holiday packages, in the weekends there many activities related to theater and performance. During our stay there were a lesson on improvisation and acting. Also there were more activities like spa, shiatsu and exercise all included in the price. Outside the hotel you can tour the Dead Sea, Ein Gedi and other attractions nearby.

The Food: When we got to the a hotel it was already dinner time and the smell of frying from the kitchen was all over the lobby. The unpleasant smell overcame at the dining room itself. Dinner on the first day proved to be compatible with the smell - oily and fat food more appropriate for an army dining room not for hotel. Things improved at breakfast. The breakfast was great and offered a huge variety of cheeses, omelets made ​​at the request of the guests, breads, granola and more. Please note that breakfast is served until 12, which is great to those who sleep late.

Bottom line: If you are looking for a hotel with a spa, variety of activities, this is the place for you. Service area - temper your expectations.

Price: from -1,045 NIS for a night on weekends